DoD Image: Air Force Staff Sgt. James Richardson
Blog Editor's Note: This article provides an interesting perspective from a south Asia media outlet that seems to focus on the intersection between that region, Europe and the United States.
It also demonstrates the effectiveness of Russian operations to undermine the international standing of the U.S. and its forces by demonstrating and exploiting GPS' vulnerabilities. 
The first inset in the article echoes that theme by noting America is experimenting with laser weapons that the Russia has had operational for over a year.
Many in the US defense establishment like to point to the improvements M Code, GPS-III, and other upgrades will bring to the ability of US forces to resist GPS interference. A limited number of M-Code capable receivers have been deployed to date, and GPS-III will be fully deployed in 2023. Unfortunately, even when fully in place, these improvements will only make military receivers a bit harder to defeat than now.
Also, we can expect our adversaries to improve their ability to disrupt GPS reception as least as fast as we implement counter measures.
We hope the US military has other PNT tricks up their sleeve we don't yet know about.
By the way, M Code, GPS-III, and future DoD PNT improvements – they are just for military users.
The average civil GPS user will get virtually no benefit.

This electronic warfare (EW) carried out by Russia may affect the US troops stationed in the Middle East besides the risk of armed conflict between the US and Iran writes US magazine – The National Interest.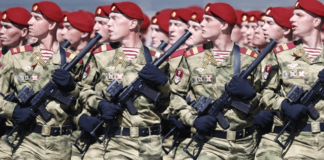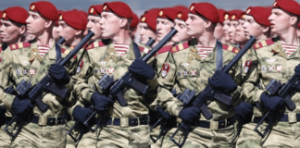 While The US Experiments, Russian Laser Weapon 'Peresvet' Active Since 2018
The Peresvet laser complex has been on combat duty since December 2019, the Chief of the General Staff of the Russian Armed Forces Valery Gerasimov recently told a foreign military attache. China Deploys Latest Tanks, Howitzer Guns Near Indian Border In Tibet – Reports The Peresvet laser complexes have been placed at sites of permanent deployment and … Continue reading
EurAsian Times: Latest Asian, Middle-East, EurAsian, Indian News
EurAsian Times: Latest Asian, Middle-East, EurAsian, Indian News
Among other things, electronic warfare by Russia including jamming poses a big threat to civilian air traffic, police and medical-related operations in peacetime.
Experts distinguish between jamming and spoofing. So while jamming amounts to creating electronic noise to disrupt GPS services, spoofing, on the other hand, involves deceiving and manipulating a satellite navigation system to provide false data.
In late June 2019, The Times of Israel reported that since last spring, pilots flying in the Middle East, in particular around Syria, had noted that their GPS systems showed the wrong location or stopped working altogether.
As per the data collected by American researchers, the signal that disrupted (and supposedly continues to do so until now) satellite navigation for aircraft flying through Israeli airspace comes from the Russian Khmeimim airbase in Syria.
Khmeimim airbase is home to sophisticated Russian military hardware, including S-400 surface-to-air missile batteries, Pantsir-S1 anti-aircraft systems and Su-57 stealth fighter jets.
Russia most probably seeks to protect its troops in Syria including from drone attacks by interfering and carrying out active electronic warfare. According to The National Interest, Israeli sources are "more and more convinced" that the failure in GPS for civilian flights in the region "are a side effect of Russian radio interference in Syria."
In recent years, ships have also reported GPS interference in the Eastern Mediterranean Sea, with Russia suspected of carrying out electronic jamming to protect its troops in Syria fighting for the regime of Bashar al-Assad.
However, the interference may well be the result of spoofing. Ships posting about GPS problems to the U.S. Coast Guard Navigation Center reported having seemingly authentic satellite signals but could not receive any credible positioning information, echoing the spoofing events in Syria near the Russian airbase.