Blog Editor's Notes:  
Mobile Satellite Services (MSS) are allocated frequencies adjacent to those for GPS/GNSS. Despite this proximity, there have been few, if any, documented GPS service disruptions from MSS. Some in the community believe this is because, until now, there have been relatively few MSS handsets, they operate at relatively low power and transmissions are typically fairly brief. 
Our readers are familiar with concerns that have been expressed about Ligado's proposed transmissions in frequencies near GPS/GNSS. The additional concerns reported on below by Dee Ann Divis in "Inside GNSS" about Iridium's plans, raise a number of questions. For example:
Spectrum is finite.  Have we done enough to plan and manage it's efficient use?
Should spectrum management also deal with receiver issues, or be entirely about transmissions, as has traditionally been the case?
Are these compatibility issues just a problem in the United States, or are they a global concern? If not just in the US, how are others addressing it? Should approaches be the same around the world?
It will be interesting to see how this second adjacent band compatibility issue plays out at the FCC. We understand the agency is traditionally reluctant to adjudicate between opposing parties, preferring to have the two sides find a resolution on their own. We wonder if that is practical in cases such as these.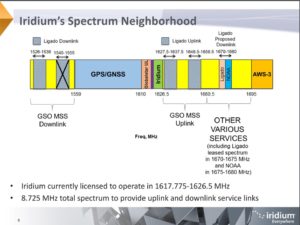 Dee Ann Divis
Inside GNSS
January 17, 2018
GPS firms are concerned about a proposal by another L band satellite firm to build more ground terminals as part of a combined satellite-ground communication network.
The proposal is from Iridium, a mobile satellite service (MSS) that provides global communications with a constellation of 66 non-geostationary satellites operating in the 1618.725-1626.5 MHz band. The constellation is also the backbone of Satelles, a GPS backup service that provides 20- to 50-meter unaided position accuracy worldwide and microsecond timing accuracy.
Iridium is halfway through a $3 billion update that entails replacing all the satellites with more advanced spacecraft that enable faster data speeds. To take better advantage of this enhanced capability it asked the Federal Communications Commission (FCC) in April to modify its license to add a new class of ground stations called Certus for expanded terrestrial, maritime, and aeronautical operations. The request is being weighed in FCC Docket SES-MOD-20170413-00389 and three related dockets: SES-AMD-20170726-00812, SES-MOD-20170413-00389 and SES-AMD-20170726-00813.
Iridium said its terminals have co-existed successfully with GPS devices for two decades, and operate on ships and airplanes that have GPS devices installed. "In fact," the company wrote in an FCC filing, "most of Iridium's commercial, military, and civilian government customers depend on properly functioning GPS devices in addition to the critical communications capability provided by Iridium's network."
The GPS Innovation Alliance (GPSIA) said in FCC comments filed in September that it is actively working on an agreement with Iridium to ensure there is no interference with GPS receivers. GPSIA said it "is confident" an agreement can be reached and asked the FCC to condition approval of Iridium's request on adherence to any such agreement.