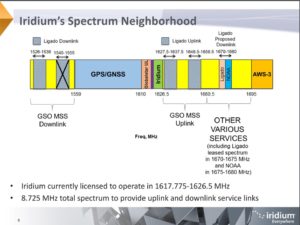 In a letter to the FCC Tuesday, twenty-two companies and organizations opposed Ligado's spectrum use proposals. Diverse as Thales and AccuWeather, the letter effectively refutes Ligado's media claims that all opposition to its proposals has vanished.
The letter was presented to the public at a meeting of the National PNT Advisory Board in Baltimore on Wednesday as part of a presentation by Iridium.
The National PNT Advisory Board has long been on record that Ligado's proposals would interfere with GPS reception and create public safety concerns. During its meeting the board also received a presentation by Dr. Parkinson on the subject. It also worked to update the board's 2016 letter to the deputy secretaries of Defense and Transportation on the topic.
For a lengthier discussion see Dee Ann Divis' excellent article in "Inside GNSS."