Blog Editor's Note: The below joint statement formalizes (between the US and China) the principle that global navigation satellite systems (GNSS) should be technologically compatible. This enables manufacturers to easily incorporate signals from multiple national constellations into the same receiver, giving users improved accuracy and resilience.
Unfortunately, the United States does not allow use of non-US satellite signals within its borders unless the provider of those signals has submitted a request and had it approved. The European Union submitted such a request in 2012 which has yet to be acted upon.
Quite the snub to our allies in Europe. We can't imagine either China or Russia humbly submitting such a request.
Yet manufacturers have been incorporating Russian, Chinese and European satellite signals into receivers, including cell phones, for some time. Receivers that are used all over the world, including in the United States.
Chances are you will never be accosted by a federal agent who wants to take away your cell phone because it is breaking the law. But it is interesting to know that you probably have a little criminal riding around in your pocket.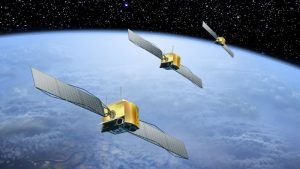 December 4, 2017
In May 2014, China Satellite Navigation Office and the Office of Space and Advanced Technology, U.S. Department of State, jointly established the U.S.-China Civil GNSS Cooperation Dialogue, a bilateral government-to-government mechanism to promote cooperation between the U.S. Global Positioning System (GPS) and the Chinese BeiDou Navigation Satellite System (BDS). Over the past three years, representatives and experts from both sides have studied and discussed various topics related to civil service provision and user applications, among which BDS compatibility and civil interoperability with GPS is one of the core focus areas. Both sides have carried out extensive in-depth analysis, and have engaged in persistent discussion and coordination. As a result, the two sides have reached the following consensus conclusions regarding compatibility and interoperability between GPS and BDS:
Consistent with the bilateral frequency compatibility coordination completed in 2010, GPS and BDS are radio frequency compatible under the framework of the International Telecommunication Union (ITU); and
The GPS L1C and BDS B1C civil signals, using two different types of multiplexed binary offset carrier (MBOC) waveforms are interoperable, which means users can receive better service by jointly using these civil signals without a significant increase in receiver cost or complexity.
Both sides agree to continue their consultations and cooperation related to compatibility and interoperability in order to provide better services for global users.
/signature of Ran Chengqi/
China Satellite Navigation Office
/signature of David A. Turner/
Office of Space and Advanced Technology
U.S. Department of State