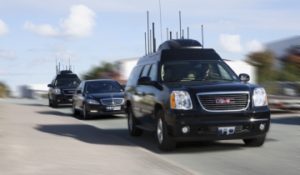 Periodically RNTF will post information drawn from GPS disruption reports sent to the US government and others over the last several years. We endeavor to include enough information to make them helpful to our readers while preserving the anonymity of the reporting parties.
Report Narrative: "This is a generic problem in the Wimax network spread across the city. We suspect the culprit is RF jammers used by government agencies during high profile movement in the city. Apparently these jammers transmit in large enough band to knock out reception of GPS. Is there a way to safeguard against such frequent outages? Can you suggest any remedies deployed elsewhere to isolate the GPS receiver from such external interference?"
Blog Editor's Note: This report came from a GPS user in an Asian capital city. Informal accounts of jamming in conjunction with VIP movements in several countries had circulated within the GPS user community earlier.  Then, in July of this year, German air traffic control advised pilots to expect GPS disruptions near Hamburg because of the G20 Summit.
Information for this post was drawn from a report received by the U.S. Coast Guard Navigation Center.