Image: Shutterstock
Blog Editor's Note: This incident seems very similar, at the outset, to one that happened near the Denver airport in January. 
One difference is that this disruption made it into the media.
The government kept the January Denver event quiet until academics starting publishing papers in August that used it as a case study. We have been told the Department of Homeland Security will release an analysis of that event "any day." – By the way, the government has already said they won't reveal what organization or person caused the Denver mishap.
It took the government 33.5 hours to identify and terminate the source of the Denver disruption. 
We hope this one is resolved more quickly. Although, info on the GPSJam.org website shows that this has already been going on since yesterday. See image below.
And we hope the government won't wait almost a year to tell us what happened, including who is responsible.
Which causes us to wonder  – If the report about Denver had gotten out more quickly, could today's problem in Dallas been avoided? 
UPDATE 1: Subsequent to this post, government representatives speaking to the President's Space-based Positioning, Navigation, and Timing Advisory Board in November 2022 said this incident at Dallas lasted 44 hours and "self-resolved." They said the source was never identified and just stopped on its own.
Update 2: Stanford researchers have determined that the interference event lasted 24 hours, though it took the air traffic system another 20 hours to reset and recover.  As of 1 Feb 2023 they are continuing attempts to identify the disruption source.
Despite claims that traffic was not impacted, FAA was reporting gate delays:

++++
Thanks to member Ryan Terp for bringing this incident to our attention!
Screen shot of the Dallas Fort Worth Airport's Automated Terminal Information System today: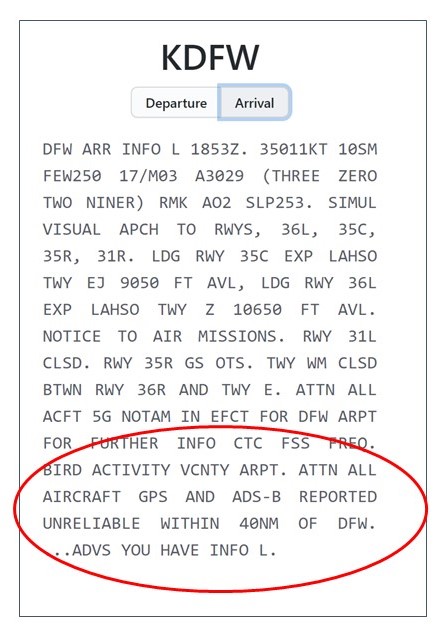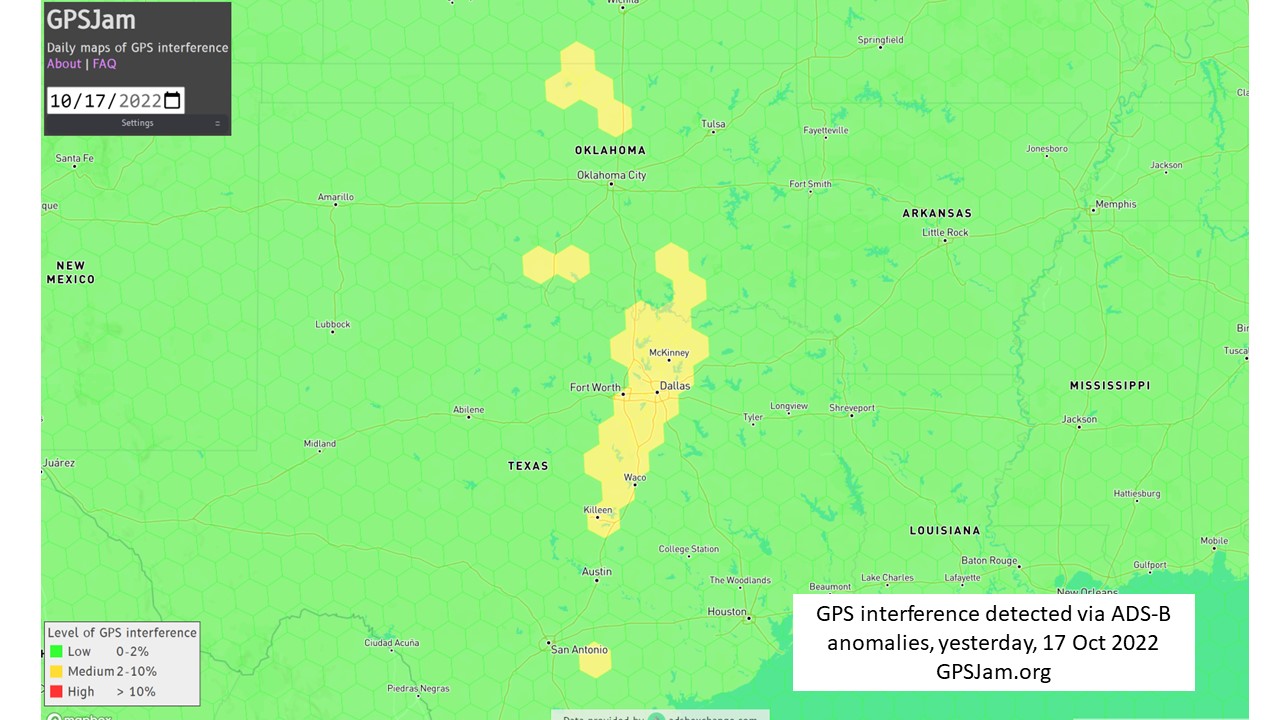 FAA Warns Airline Pilots as GPS Signals Disrupted Around Dallas
Runway at Dallas closed, flights using older technology

FAA says it's found no evidence of 'intentional interference'
Flights into the Dallas area are being forced to take older, cumbersome routes and a runway at Dallas-Fort Worth International Airport has been closed after aviation authorities said GPS signals there aren't reliable.
The Federal Aviation Administration said in an emailed statement Tuesday it's investigating the possible jamming of the global-positioning system that aircraft increasingly use to guide them on more efficient routes and to runways. So far, the agency has found "no evidence of intentional interference," it said.