LATEST INFO FROM AIN Online:
 – 
June 10, 2019, 12:33 PM
According to a notice from NBAA Traffic Services sent yesterday, "Numerous calls and emails have come in to the desk this morning in reference to GPS signal disruption." The disruption appears to affect only certain Collins Aerospace (formerly Rockwell Collins) GPS receivers, and Collins Aerospace confirmed to AIN, "We identified a technical issue with our recently released GPS product(s) impacting availability, and have since determined the root cause and the resolution. We are engaging with our customers to ensure continued safe operational capability."
According to Collins Aerospace, the affected GPS receivers are GPS-4000S part number 822-2189-100 and GLU-2100 part number 822-2532-100.
The NBAA notice pointed out that the FAA had issued a blanket exemption to allow the affected aircraft to be flown below FL280 and if unable to fly RNAV routes, to use "traditional airways and/or navaids." The exemption, however, was valid only through today at 0400 UTC.
According to OpsGroup, members have reported that affected aircraft include the following: Bombardier CRJs and Challenger 300/350, Boeing 737-900, Hawker 750 and 850XP, Cessna Citation CJ3, Gulfstream G200 and G280, Airbus A320, and Boeing MD11.
——
Blog Editor's Note: Despite the FAA publishing a map purporting to show an area of GPS signal degradation in the United States, information we have now from industry sources seems to show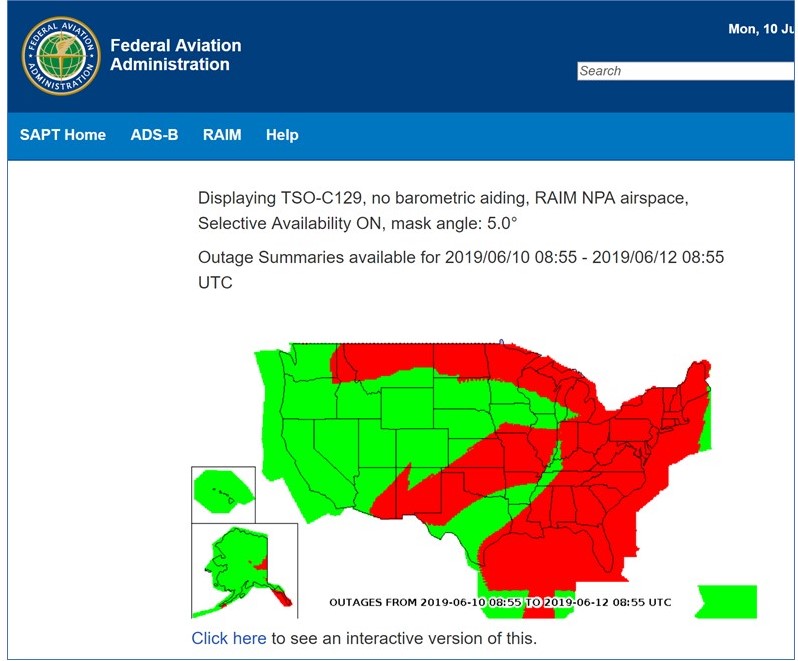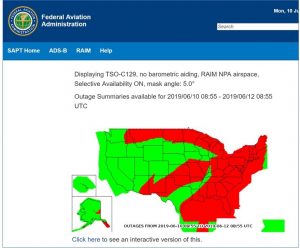 that ADS-B problems in the United States stem from a bad update to a large class of aviation receivers.
The below is excerpted from a larger aviation industry document. We are not sure about the highlighted comment "performed a software update last night on the satellites" as the company in question, as far as we know, does not update GPS satellites.  We suspect it means that they did an update to their receivers VIA satellite and that said update was corrupted. 
The absence of reports of problems from other modes of transportation and other industries certainly seems to justify refocusing from GPS signals to receivers as the root cause.
Also the FAA is now talking about users 'having problems with their transponders' in its blanket waiver to allow impacted aircraft to fly today. 
This is a good reminder for all that great signals in space are just one part of a "gold standard" system. We also need unobstructed spectrum, great receiving equipment, and more than one source of great signals.
This will be an interesting one to follow. We look forward to the FAA debriefing the exact nature of the problem (we hope).
Summary of situation – GPS issues for CRJ, 737-9, MD11, A320, CL300, G280, G200, Hawker
The GPS issue which has affected a large number of operators today is caused by a software update which was corrupted. It's not limited to the US. GPS is likely unavailable on aircraft which have Rockwell Collins GPS-4000S or GLU-2100 GPS/MMR receivers. The impact is either a grounding, or MEL relief where available. Separately, the FAA command center issued an advisory if unable to use RNP routes, file FL280 or below and navigate VOR-VOR. Radar vectors were also provided by ATC for some aircraft.
Aircraft affected, per reports:
Bombardier CRJ
Bombardier Challenger 300/350
Boeing 737-900
Hawker 800XP, 750
MD11
Cessna CJ3
Airbus 320
Gulfstream G280, G200
Some Rockwell Collins multi-mode receivers are affected too.
Rockwell Collins performed a software update last night on the satellites and for some reason the update was corrupted. It appears that all aircraft worldwide with GPS4000S systems p/n 822-2189-100 are not able to locate satellite position signals.
Important to note that the transponder systems are also affected by this on all aircraft that are ADS-B modified.
Challenger 300 with Collins Proline 21 advanced, LPV, and ADS-B is grounded due to no MMEL relief
Hawkers (800XP and 750) as well as G200 are affected. The Hawkers have Pro-Line 21 and the G200 has a ProLine 4 system.
All CL300/350 with -100 GPS pn
Gulfstream G280s are also affected.
Airbus A320 having issues post ADS B Mod –
CJ3 is affected first to discover this problem only after starting engines and setting things up with pax on-board (no GPU here).
Challenger 350 with -100 part numbers seem to be having the issues.