Blog Editor's Note: The below Reuters article highlights an interesting confluence of events. Just last week the UK Minister for Defence expressed concern about Russia attacking the British infrastructure and economy. This week the UK government issued a report on "Satellite-derived Time and Position: A Study of Critical Dependencies" detailing all the ways in which British infrastructure uses and depends upon GPS/GNSS. Given Russia's very active jamming and spoofing in Eastern Europe over the last year, it is difficult to see the two as unrelated.
Russia's jamming and spoofing has undoubtedly been to send the UK and US a message about its ability to, as Dr. Mike Griffin told Vice-President Pence, "…bring our economy to near collapse."  – We should listen.
* Report: satellite-based technologies may be targeted
* Satellite devices need accurate position and timing signals
* Government may consider back-up systems to reduce risks
By Jonathan Saul
LONDON, Jan 30 (Reuters) – Britain is reviewing its reliance on satellite-based technology for critical infrastructure including the Global Positioning System (GPS) as the threat of jamming attacks and disruptions grows, a government report said on Tuesday.
Emergency services, transport, communications and financial networks are among key sectors which depend on Global Navigation Satellite Systems (GNSS) such as GPS. Such technology needs accurate and reliable position and timing signals.
Experts say the problem with GNSS is their weak signals, which are transmitted from 12,500 miles (20,100 km) above the Earth and can be disrupted with cheap jamming devices that are widely available. They are also vulnerable to signal loss from weather effects as well as radio and satellite interference.
"We must take steps to increase the resilience of our critical services in the event of GNSS disruption, including by adopting potential back-up systems where necessary," the minister for implementation, Oliver Dowden, said in the report.
"The government will give all due consideration to its findings," said Dowden, whose brief includes cyber and resilience issues.
Britain's defence minister Gavin Williamson was quoted last week in the Telegraph newspaper as saying Russia was looking to damage the British economy by attacking its infrastructure, a move he said could cause "thousands and thousands and thousands of deaths".
COSTLY DISRUPTION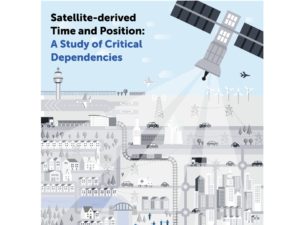 UK Govt Report "Satellite-derived Time and Position: A Study of Critical Dependencies"
Professor David Last summary presentation about UK Report "Satellite-derived Time and Position: A Study of Critical Dependencies"