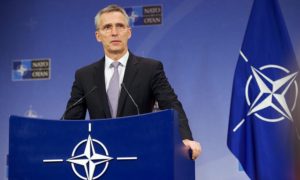 Blog Editor's note: It is not clear from the report below if the Russians were jamming GPS and also jamming cell phone frequencies, or if, as a by product of GPS jamming, cell phone networks were also impacted. – Networks of all kinds  rely on GPS timing for synchronization and operation. When GPS signals are interrupted often holdover clocks in various network nodes will maintain time sync with each other for a while. When two or more loose sync, networks begin to degrade.
Associated Press
NATO chief says allies concerned about Russian phone jamming
BRUSSELS — NATO allies have raised concerns about what they call Russia's use of a kind of electronic warfare during military exercises last month that jammed some phone networks, alliance Secretary-General Jens Stoltenberg said Thursday.
"At least two allies have reported about that," Stoltenberg told reporters after chairing talks in Brussels between ambassadors from NATO and Russia. He said it highlights the need for Russia to be more transparent with war games "to make sure there are no miscalculations, misunderstandings, because these kinds of activities can have serious effects."
Phone services in Latvia, Norway and Sweden's Oeland islands were reported to have been shut down for a few hours during the Sept. 14-20 Zapad exercises that Russia held with Belarus. The jamming is suspected to have been launched by a Russian communications ship from the Baltic Sea.
"My phone shut down for about four or five hours. The suspicion is that it was a Russian ship in the Baltic Sea, with the technology capable of blocking cellular signals," Latvian lawmaker Ojars Kalnins said earlier this month.
He said the jamming "focused on the Oeland islands in Sweden" but that "it did shut down all communications, including emergency phone service in Latvia. Our 911 service was shut down for several hours during this experimental attack."
Norway's intelligence chief, Morten Haga Lunde, said in Wednesday's edition of the Aftenposten newspaper that Russia had also used a kind of electronic attack that could have endangered civilian aircraft in the area.