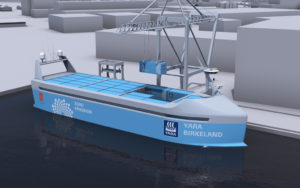 Editor's Note: Cameras, radar, and "sensors" will complement GPS in the navigation suite. We have asked for more detailed information from our friends at Kongsberg. It seems to us that having resilient navigation would be important.
OSLO—Two Norwegian companies are taking the lead in the race to build the world's first crewless, autonomously operated ship, an advance that could mark a turning point in seaborne trade.
Dubbed by shipping executives the "Tesla of the Seas," the Yara Birkeland now under development is scheduled in late 2018 to start sailing fertilizer 37 miles down a fiord from a production facility to the port of Larvik. Using the Global Positioning System, radar, cameras and sensors, the electric ship is designed to navigate itself around other boat traffic and to dock on its own.
The vessel will cost $25 million, about three times as much as a conventional container ship of its size, but its backers say without need for fuel or crew it promises to cut annual operating costs by up to 90%. The 100-container ship is scheduled to be in the water toward the end of next year, though initially it will be tested with a human at the controls.
The Birkeland is being jointly developed by agriculture firm Yara International ASA and Kongsberg Gruppen ASA, which builds guidance systems for civilian and military uses.
Petter Ostbo, Yara's head of production who leads the project, said the company would look to invest in bigger ships and use them for longer routes once international regulations are in place for crewless vessels. "Maybe even move our fertilizer from Holland all the way to Brazil," he said.