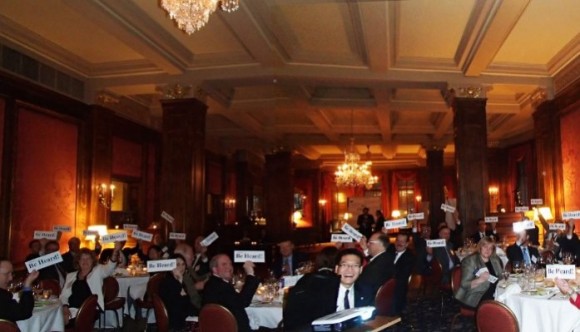 Vint Cerf and Terry Halvorsen offered interesting and different, yet complementary, observations on the importance of assured PNT at last night's RNT Foundation dinner. The event at the Metropolitan Club, hosted by former FAA Administrator Langhorne Bond, was attended by a broad cross section of members from industry, government and academia.
The meeting opened with a clip from the 1997 James Bond movie, "Tomorrow Never Dies" in which the villain uses GPS spoofing to lead a British warship into Chinese waters sparking an international incident. After introductory comments by foundation President, Dana Goward who noted that many of the concerns that existed in 1997 are still present today, Department of Defense CIO Terry Halvorsen spoke about the importance of resiliency and assured PNT.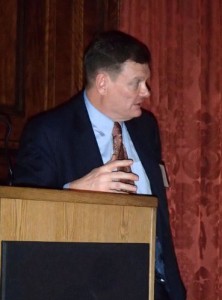 Commenting that GPS might not be as vulnerable as it might appear, at least in military applications, Halvorsen spoke at length about the need for a "complementary" system. He made a point of saying that it wouldn't be a "backup" because it would be in operation alongside GPS all the time and undoubtedly be able to do things that GPS would never be able to do. Halvorsen did not specify what system should complement GPS. He did, however, speak about eLoran and its use by US allies, the fact that it is a strong penetrating signal and its differences from GPS which make it appealing. However, he did reassure everyone that the US military was already prepared to operate in a GPS-denied environment, if necessary.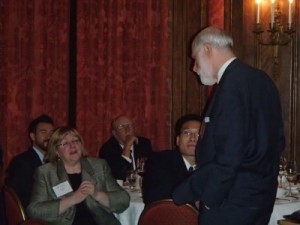 Vint Cerf took a very different tack. Allowing that the DOD undoubtedly had things in hand for military operations, he said a much larger concern are the consequences of GPS disruptions and vulnerability for our economy, in fact, our very way of life. Cerf allowed that, until preparing for that evening's discussion, he had been unaware of the criticality of precise time to any number of systems, especially telecommunications. This, he said, makes it a critical concern for IT networks as well.
Cerf also suggested that it might be more appropriate for the private sector to provide assured PNT services. He acknowledged that developing a good business model would be key, and went on to suggest some hybrid arrangements in which both business and government might play a role. He then led a robust and wide ranging discuss with the attendees.
Most everyone agreed it was a most informative and entertaining evening.