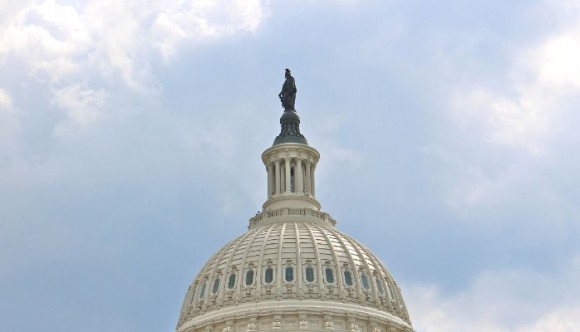 Photo Credit: Architect of the Capitol
Yesterday, a bi-partisan group of legislators led by Congressman John Garamendi (D, CA) introduced a bill that would require the Secretary of Defense to establish a backup for the Global Positioning System (GPS). Called the "National Positioning, Navigation, and Timing Resilience and Security Act of 2015," it was co-sponsored by Congressmen Duncan Hunter (R, CA), Peter DeFazio (D, OR), and Frank LoBiondo (R, NJ). Other members of Congress are expected to sign-on as co-sponsors after Congress returns from its spring recess.
The bill would require the Secretary of Defense to work with the Secretary of Transportation and the Commandant of the Coast Guard to establish and operate:
A reliable land-based positioning, navigation, and timing system to provide a complement to and backup for GPS to ensure the availability of uncorrupted or non-degraded positioning, navigation, and timing signals for military and civilian users if GPS signals are corrupted, degraded, unreliable, or otherwise unavailable."
The bill also sets out numerous requirements for the system saying that it shall:
Be wireless, terrestrial, and wide area
Provide a precise, high power 100 kilohertz signal
Be resilient and extremely difficult to disrupt or degrade
Be able to penetrate underground and inside buildings
Take full advantage of existing, un-used Loran infrastructure
Work in concert with and complement any other similar positioning, navigation and timing systems, including eLoran.
Regarding creation of the system, the bill says that the Secretary shall:
Incorporate the expertise and contributions of the private sector to quickly establish a system architecture, build and operate a land-based GPS back-up system, and
The system shall be fully operational no later than three years after the date the bill becomes law.
The text of the bill from Congressman Garamendi's website is available here.